Welcome to Week 8 of the 12-week DEBT DESTROYER Challenge!
You can utilize the Debt DestroyerWk8 Workbook to track your progress, complete activities, and learn more about the topics we cover each week. Access the manual HERE.
Your assignments are detailed below.
Day 1: watch the videos and complete the Mindset exercises.
Days 2-5: Commit a minimum of 20 minutes acting on your daily spend offenses and positive influxes.
Days 6-7: Review your week and DRIVE THE WEDGE.
1. Debt Destroyer Lesson
Watch the overview video plus two assignment videos (approx 20 minutes total) and post a proof pic/screenshot showing the end of the last video. (4 points)
Overview
Video 1
Video 2
2. Debt Destroyer Mindset Exercises
(5 points)
Assignment 1: Gauges Part II
After watching the lesson videos for this week, find "Your Number" by Working it Backwards, then Working it forwards. You can use the Retirement Calculator and Investment Calculator from CALCULATOR.NET.
Record your responses on a sheet of paper or in the Debt DestroyerWk8 Workbook.
Work it Backward
Choose a method to calculate your desired retirement investment (4% rule or Expense Based Method) utilizing the tables in the video, or this Retirement Calculator.
Utilize the Investment Calculator (link on assignment page) to calculate your monthly contribution needed to hit the mark
Reflect: Is the required wedge feasible? What is your financial legacy?
Work it Forward
Utilize the Investment Calculator to calculate your retirement balance utilizing your current wedge as the monthly contribution
Reflect: How close is this value to the 4% rule? How long will you sustain on your investment? Do you need more time? Do you need more annual income to realize your dream?
Proof pic: Upload a photo of your results from Working it Forward, Working it Backward and highlight "Your Number".

Assignment 2: Expand the Wedge – Purposeful Expense
Reflect on common budget failures:
Inaccurate Assumptions
Emotional Expenditure
Poor Planning
Lack of Awareness
Utilize the Debt DestroyerWk8 Workbook, or a fresh sheet of paper (write the title "Expand the Wedge". Input the column headers "Item", "Amount", "Short Term Solution", "Long Term Solution" and "Note").
Identify deviations from the budget. What can you do in the final week of this month to avoid or minimize the budget overage? Where are your assumptions incorrect? Are there surprises that you can account for going forward?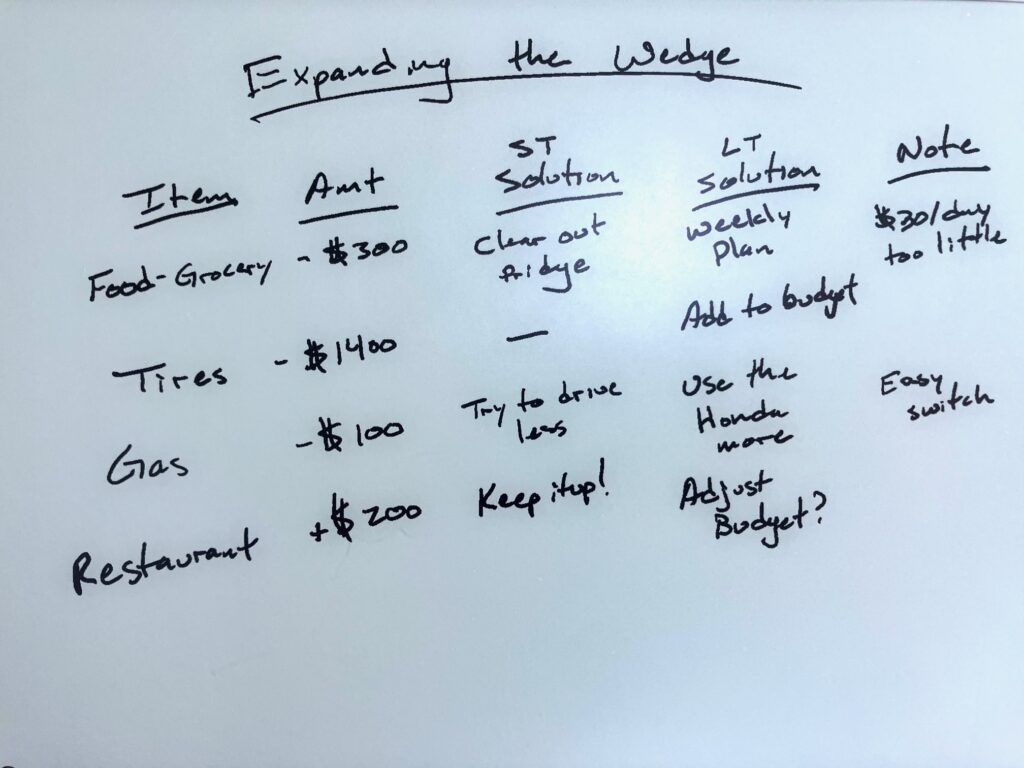 Proof pic: Upload a photo or screenshot of your Expand the Wedge sheet to your fire team channel.
Assignment 3: Create your Weekly Attack Plan (5 points)
Take a blank sheet and title it "Weekly Attack Plan."
Draft three (3) Spend Offenses. Leverage the efficiencies, eliminations and behavioral changes identified in the Value Alignment and Expanding the Wedge exercises, or include any other opportunities to expand your wedge.
Spend Offensive Examples:
Double down on good habits
Choose an alternate family outing and take advantage of the weather
Sell an unused item that you'll never miss
Draft three (3) Positive Influxes, hustles, initiatives and easy wins to generate cash inflow.
Positive Influx Examples:
Take on a new project
Take a free course and share it with your colleagues
Say "No" and refocus on core work
Sum all initiatives to calculate your Estimated Free Cash Flow (FCF) potential.
Proof pic: Post a proof pick of you Weekly Action plan to your fire team channel.
Assignment 4: DAILY Spend Offenses OR Positive Influxes (4 points per day for a max total of 16 points)
For 4 days this week, set your timer for 20 minutes and focus on one (1) Spend Offensive or one (1) Positive Influx. You are not measured by effectiveness, you are simply devoting time and intentionally making bold moves with your money.
Proof pic: Upload a picture of your daily action each day to your fire team channel.
Assignment 5: Review your week and Drive the Wedge (5 points)
At the end of the week, spend some time going back to think about your week. What worked? What did not? Note your successes and ensure you provide a dollar value.
At the bottom of the sheet, input your Weekly Wedge, your Estimated FCF and Actual Wedge.
Drive the Wedge: Chose an obligation from your Obligation Hit-List and transfer the value of the actual wedge created to the principal balance. This is the single most important step in the entire program.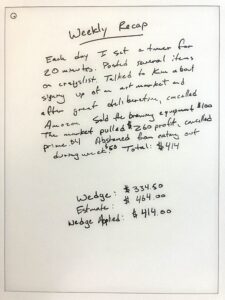 Proof pic: Post your Weekly Review to your fire team channel.
3. BOLD MOVE
Make one Bold Move this week to move the needle in any area of your life (For example your health, wealth, relationship, family, work or personal life). It is strongly recommended (though not required) that you make a Bold Move that is directly related to one of your Debt Destruction.
Bold Move Ideas:
Buy grass-fed meat only going forward
Double the time and money you invest in wealth-building
Have her coffee ready for her when she wakes up each morning
Proof pic: Upload a photo or video of your Bold Move to your fire team channel. (5 points).
If you need more information about the concept of Bold Moves, refer to the 50 BOLD User Manual.

4. SPECIAL OPS
Your Special Ops assignment for this week is to complete ONE of the three Special Ops listed below, and to substantiate by uploading a proof pic or video to your fire team channel. (5 points)
Special Op #1: Sharpen your kitchen knives
Special Op #2: Teach your child a knot
Special Op #3: Do 10 air squats in public
5. MOOT
Join us Friday at 3 PM Central Time for our weekly Moot. Zoom link and password will be posted in Slack each Friday.
Proof pic: Upload a photo or screenshot of the Moot to show you attended the live Moot or watched the replay (5 points).
KILL A BILL WAR ROOM
Every Wednesday at 12pm CST we will hold an open Zoom call to work assignments, share wins and see who can bring the worst hold muzak when calling vendors. This call is not mandatory and you do not need to stay on the entire hour. Just a block of time you can use to focus on destroying your debt. Zoom details will be posted in the 03-debt-destroyer channel.
Quick Links:
Debt Destroyer Scoring Tracker Template
For DEBT DESTROYER Support: Send a direct message in Slack to @Coach David Kaiser
For general Third Way Man or 50 BOLD support inquiries, please email support@thirdwayman.com
…
Now go out and Destroy Your Debt, win some points, and put your fire team on the leaderboard.

See you on the Moot!

David Kaiser, 50 BOLD Coach
Third Way Man